ICOM 703 versus YAESU FT-817
Let's start saying I have both:  an FT-817 a an IC-703+.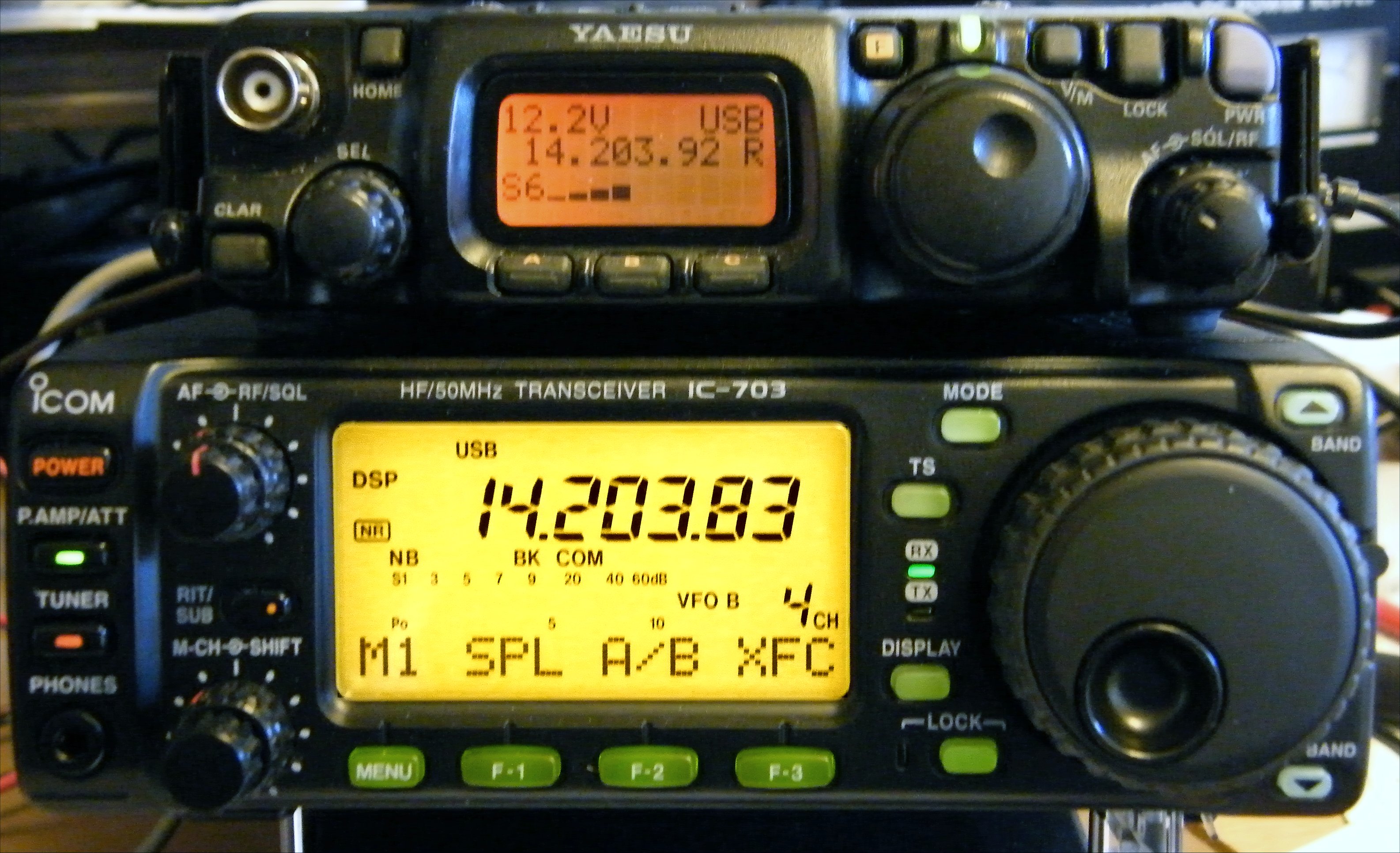 Icom 703
The Icom IC-703 Plus all-mode transceiver delivers efficient QRP operation on HF (160-10 meters) and 6 meters. Output can be set for 10, 5, 2.5, 1 or 0.5 watts. Energy conservation is realized by lowering the power source voltage and this rig draws only 300 ma in Standby mode, not 2 amps like some other radios. Many features, usually extra charge, are built-in including: automatic auto tuner, AF DSP,  memory keyed and TCXO (± 0.5 ppm). A large high contrast, backlit LCD keeps you informed. An easy-to-use menu system allows you to tailor many aspects of the radio's operation to your preferences. Other features include IF shift, AF speech compressor, spectrum scope, and SWR analyzer. Four types of scanning are supported. Includes:  OPC-1229 DC power cable, spare fuses, key plugs, acc cable and HM-103 hand mic.
Pro of ICOM 703: 
I think it is more user-friendly, great display, wit more front panel controls.  It transmits with 10W (Yaesu Ft 817 5 watts) and has better voice modulation on SSB mode. Decent speech processor.
But I think the best feature of the Icom 703+ is its  internal automatic antenna tuner that is fast, quiet and reliable.
If your aim is to have just a HF rig : the 703+ is what you need!
Cons:
Weight.
No internal batteries.
Click on the arrow down for the comparison video Yaesu vs Icom
Yaesu FT-817
The Yaesu FT-817ND includes 60 meter coverage plus the new high capacity FNB-85 battery. The radio is a fully self-contained, battery-powered, low power amateur MF/HF/VHF/UHF transceiver for portable/camping/mountain top use. Providing coverage of of the 160-10 meter amateur bands including 60 meters, plus the 6 meter, 2 meter and 70 cm bands, the FT-817ND includes operation on the SSB, CW, AM, FM and digital modes. This radio is designed for use either from an external DC source or internal batteries and provides up to 5 watts of power output when on external DC power. When using the battery pack or 8 AA cellsStill in production.
Pro
It is very light! It operates on HF plus VHF (2meters) and UHF (70cm) even if he trasmit only with 5 watts.  Very good internal battery: 2 hours of receiver / Transmission allowed when you're outside. Good CW.
Cons:
Very difficult to interpretate display.
Know very difficult to manipulate.
Low power. (but true QRP)
No ATU
NO TxCO
No good speech compressor.
Click on the arrow down here for the comparison video ICOM vs YAESU
73 de IZ0JOJ