How to connect our FT 817 radio on IPAD and transmit in digital via PSK31?
A number of apps exist for different digital modes for iOS devices. RTTY, AX.25 Packet, PSK31,  SSTV .
PSK31: I tried both softwares on the APP store:
I-PSK31
PSKer
These are working very well but I suggest PSKer.
It's worth mentioning at this stage that the iPad is VERY sensitive to the input level on the microphone line, and using the PSKer app you need to tweak the level adjustment until there is *just* a spattering of noise on the waterfall.
Here the proof of the QSO in PSK31 via IPAD.
https://www.youtube.com/watch?v=iyaS2ik0WRc
To buy the interface:
http://www.zindello.com.au/wordpress/2012/07/10/psk31-on-the-ipad/
I've personally tested this new feature for our FT 817.
It is a kit that fit into your original case a LIPO 3000 mAh battery.
Lipo battery are widely used now by R/C enthusiast because of their high power to weight ratio as well as their ability to provide high current coupled with a flat discharge voltage curve. 
The WLB-817 kit replaces your FT-817 factory supplied battery tray and the custom made Charging Hatch replaces you battery door. The Charging Hatch features a an ON/OFF switch that cuts the battery off from the radio during charging or storage. The charger features a bi-color LED that indicates charge status.
Specifications

Operating Voltage

Charged 12.6V Nominal 11.6V 

Charger

100-240VAC Input 12.8VDC Output

Minimum Voltage

9V

Charge Time

4 Hours

Discharge Current

2.5A Max

Charging Specs

12.6V @ 1.2A
| | |
| --- | --- |
| WLB-817 Basic Kit Includes LiPo Battery, Charger and Hatch         $75 | |
http://www.hamsource.com/WLB-817.html
Video of the installation
73 de IZ0JOJ
Dear QRP ham radio addicted,
These frequencies are reserved to us.
Remember we don't "own" these popular frequencies but they are a good place to start calling CQ.
Dear all,
here you can download the Italian PDF manual of our QRP RADIO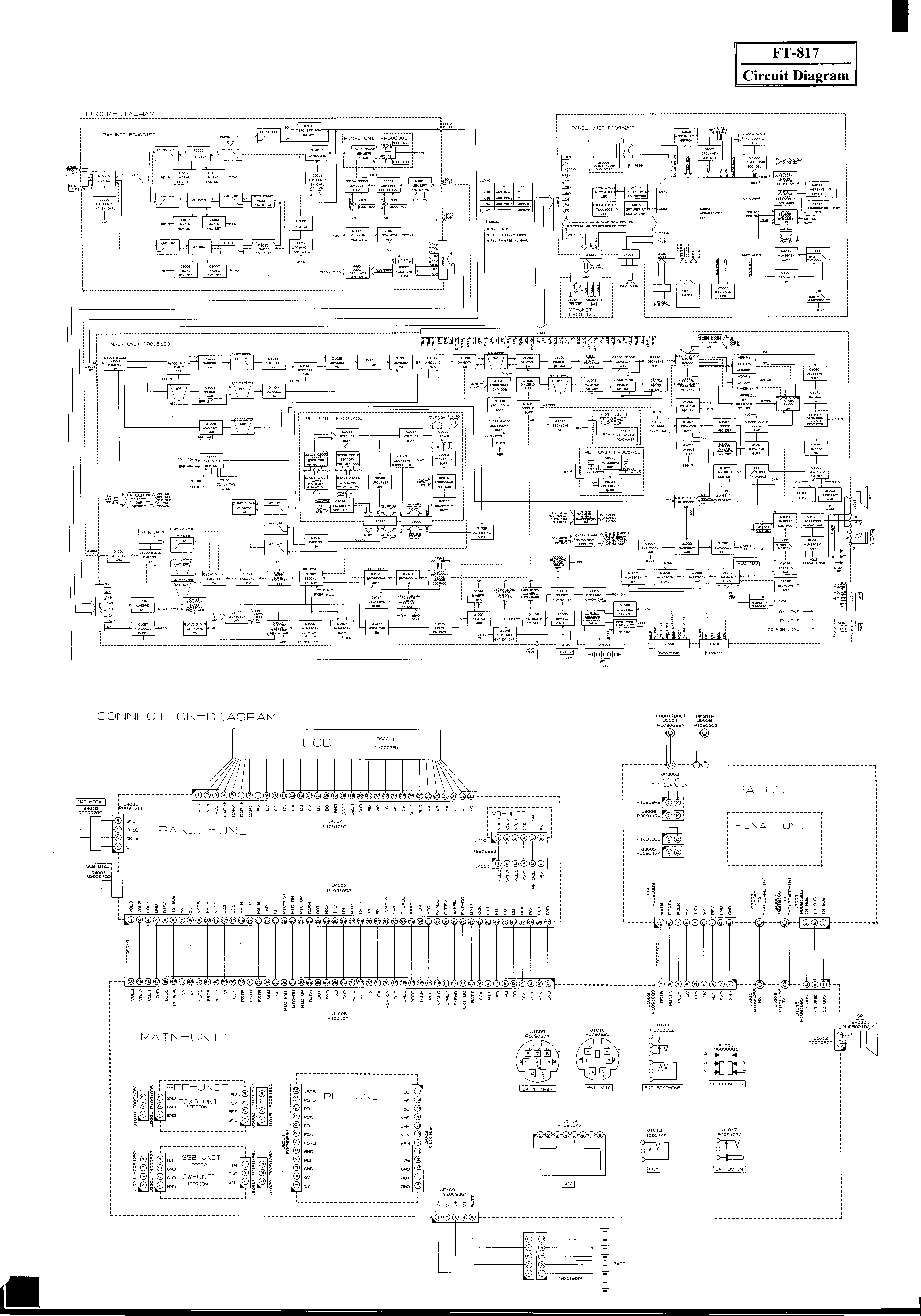 73  de IZ0JOJ
Elecraft KX3 vs Yaesu FT 817
Hello everybody. Welcome to the Elecraft KX3 versus Yaesu FT 817 quick comparison
The Price
The Elecraft KX3 comes with the MH3 microphone,  KXBC3 charger, USB port cable (to upload firmware, to use it as SDR receiver on your PC) (no battery, you should insert 8x AA) at the price of US$ 1120. An internal autotuner could be yours for 100$ and the price will increase up to 1300$ and, I can assure you, it is great. Super auto-tuner. Fast!
The Yaesu FT 817 (ND version) already comes with microphone,  charger,  battery and an antenna for about US$ 600. No autotuner could be purchased, not available yet. You may look for a LDG autotuner (150$ at least) or manual QRP one (EMTECH).
Receiver
The receiver in the Elecraft KX3 is so good that it ranks among the top ones available today, beating transceivers like FT 1000 (!). It's a new technology and you will never miss distant far QSO. Please see the video down here.
Power and weight
Elecraft KX3 has 10 watts while the Yaesu FT 817 has only 5 watts and it is a bit heavier (1.2Kg yeasu vs 0.7Kg Elecraft).
VHF/UHF
Yaesu FT 817 wins since it is the only one that has VHF/ UHF coverage with 5 watts and bnc antenna.
Known Issues
Elecraft KX3: price (hi hi hi)
Yaesu FT 817: finals very weak and easy to burn out.  Yaesu seems to fix this in the ND version!
Winners

Both.
In my humble opinion the Yaesu FT-817 has simple interface and seems to be more "friendly". Lighter and good for SOTA and challenging trip.  The KX3 looks functional, but hardly a thing if beauty. It's like a lady.. beautiful lady. You should treat her in a very very gentle way.
Enjoy the video comparison – click down here on the arrow
73 de IZ0JOJ
How to increase power of FT 817 ND to 10 watts
Also called "the golden screwdriver syndrome", we receive and publish this mod:
"This procedure here will increase power to 10 watts on HF bands only, but ensures that the DC Over-current protection will reduce power into abnormal loads that the SWR detector cannot detect. SWR bridges are a only a compromise at detecting reflected power — that's why Yaesu went to the effort of building in DC Over-current protection as well as high-SWR protection.
Here is the recommended procedure, you will need a Dummy Load and a Wattmeter or RF Voltmeter. Make a note of your original calibration settings so you can go back to the standard setting later — the easiest way to do this is to use FT817 Commander freeware. It is also easy to accidentally change a value by bumping the Dial knob, and you need to be able to get back to the original setting. If you have a Key connected, set the VFO to CW on 1.8, 7 and 21 MHz bands — if you don't have a Key, then set them to PKT and you will be able to get full carrier using Mic PTT but with no modulation going out.
Turn the radio off. Press and hold the three A, B, C buttons and press the PWR button. To change to a different Menu item turn the small SEL knob. To change the value of the item, turn the large Dial knob. Be careful not to bump the Dial knob so you don't accidentally change settings..
1. Increase HF1-IC to 150.
2. Increase HF1-HI for an output of 14 watts – you will need at least 12 volts input.
3. Decrease HF1-IC until you get 12 watts output
4. Now set HF1-HI for 10 watts output.
5. Repeat for HF2 and HF3
You could also change HF1-L3 to 5 watts to save battery drain when 10 watts isn't needed.
If you are using an RF Voltmeter the readings are 0.5W=5v 1W=7v 2.5W=11v 5W=16v 10W=22v 12W=24v 14=26v.
To avoid de-calibrating the Voltmeter, set your supply to 13.8 volts — otherwise if you just flick over the DC volts position (Item 17 – VCC) you will recalibrate it.
To save these changed settings, hold the F button for two seconds when finished"
Check out this Youtube video
The QRP world note:
We don't believe this is a useful mod. This mod will strongly change your board circuit. Ham radio operators that did this mod, said voice modulation, especially in AM/FM changed and was distorced. We, therefore, don' t recommend this modification. You can use this excellent and portable QRP amplifier for YAESU FT 817 ND that we already reviewed for you. Do not miss the opportunity to talk and discuss of this in our forum.
We are looking for other mods for the YAESU FT 817 ND – please – If you like to have more mods and how to increase the power on your YAESU FT 817 please click down here on the arrow
If you are aware of any other mod please write us!
Best 73
Once upon time, with older models it was easy to open all the bands using a software (widebander.exe) but now you need to open your radio and perform this modification manually.
Guide to widebanding

"First remove the battery and disconnect the radio from any power source. 

Next remove the top and bottom covers.

Looking at the front of the radio there are 2 clips on the top and 2 on the bottom.

Ease these clips free of the main body of the radio and slide the front panel off (don't overstretch the ribbon cable).

Next unclip the ribbon cable from the main body of the radio.

Now the front panel should come free and you can then see the jumper positions"
If you look at the inside of the front panel you see 9 jumpers at the top. Some of the jumpers are soldered closed and some are still open.
To wideband the radio you have to change the configuration of these jumpers.
This is how the jumpers looked in a newly bought FT-817 ND version:
OXOXXOOOO
You need to solder the jumpers like this: XXXXOOOOO
After doing this modification you need to reset the FT 817 :
– press and hold the "F" and "V/M" buttons and then press "power on" to reset the FT-817 and make the mod active.
Recently some ham radio users have uploaded some info about the new Yaesu FT-827 (?) that seems the new version of our QRP Radio. Somebody also says that the new QRP radio from Yaesu will be called FT-818. However for years the HAM radio community is hoping for a new version to update and refresh the FT-817 nd
We would like to anticipate you some characteristics of this great radio:
All mode: USB/LSB/CW/AM/FM/WFM from 1.8 to 1296MHz
10W / 5W / 2.5 W / 1 W / 0.5 W power RF
3.200 mAh Li-po battery pack
Built in auto tuner
Full color OLED display (16 lines)
Digital signal processing (optional +200$)
QSK in CW
Price should be 849 euro (960$)
The new YAESU FT 817 will be available next January 2018. We look forward to it! Click down here on the arrow to have more info regarding the new QRP.
This little QRP radio is getting me crazy.
Only 5 watts: I arrived to Argentina on 20 meters band. CW mode.
Brilliant, I would say.
An old hamradio saying suggests that if you have 1000$ spend 900$ for antenna and 100$ for the radio.
I agree. I think that the most of the job is done by my Antenna. End Fed antenna by LNR precision. 13 meters length.  It is deployed to the tree in front my window.  40 / 20  / 10 meters band covered.
No need of a tuner.
Simply brilliant.
I suggest everybody this antenna.
Here there is a QSO published recently on Youtube.